When I saw this face it was all over, I knew she was the one: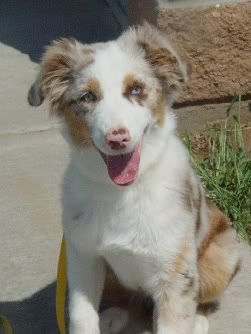 She was a 6 month old Border collie/Australian Shepherd mix.....she was at the Australian shepherd rescue, after filling out an application and talking to her foster (who thought she would be a good agility prospect) we went to pick her up.
She was a great dog, housebroke and loving, good with the kids and seemed okay with the cat. We signed up for a puppy obedience class right away, she loved playing with other dogs and did well learning the parameters of our invisible fence in the backyard.
My plans with Skye were always to pursue agility.....I wanted it to be a fun hobby for both of us, I have always enjoyed training dogs and pretty much any animal and thought that this would be a great way to further my experience, and what dog wouldn't enjoy lots of treats and fun learning!